What We Do
Our mission is to improve mental health for First Responders through Therapy Dog support and training.
The First Responders Pack Foundation is a non-profit 501 (C)(3) organization committed to improving first responder mental health. We are raising funds to help agencies acquire and train therapy dogs to support their members and communities during moments of crisis. Improving therapy outcomes in the aftermath of traumatic events and fostering PEER connections for long-term support. Together we can make a difference.
We work directly with First Responder groups like IAFF Local 4321, Broward County Professional Firefighters, local peer collaboratives, and other community agencies and providers to provide support for those who have experience PTSD from work related situations.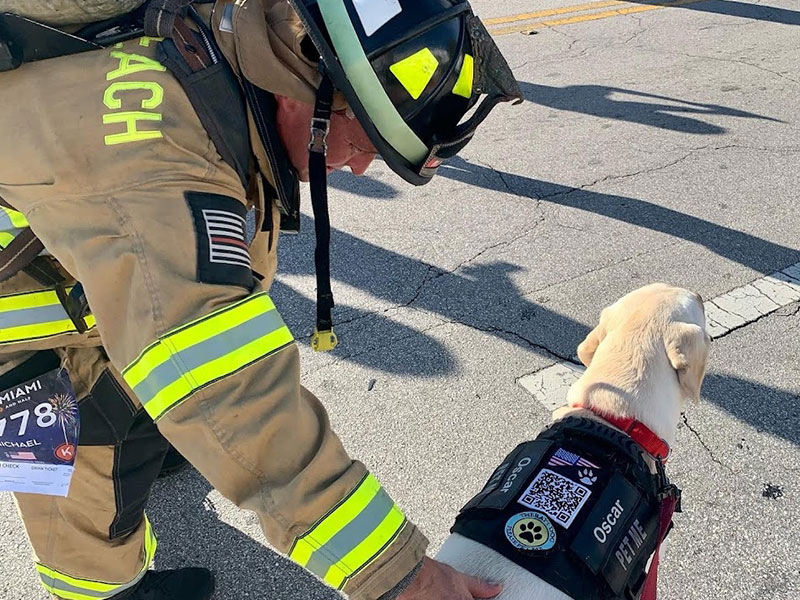 Therapy dogs are trained to provide attentive comfort and support to people with mental, emotional, and/or physiological needs. These "comfort dogs," as they're sometimes called, have come in handy in a wide range of settings with very different populations.
With first responders who may be processing an occupational trauma or dealing with symptoms of PTSD, the anxiety is often severe. Therapy dogs can slow down their breathing and help them relax. The simple act of petting the animal reduces levels of the stress hormone cortisol and releases feel-good neurotransmitters like serotonin and oxytocin, which help to improve mood.
"Studies with therapy dogs suggest even brief interactions ease anxiety and fear," says Sandra Barker, a professor of psychiatry and director of the Center for Human-Animal Interaction at Virginia Commonwealth University.
Therapy dogs can also be used to break the ice in group and individual therapy. This enables first responders to share whatever may be going on with greater ease—and feel more heard and supported. These are just some of the many therapeutic benefits of therapy dogs.
Interested in working with First Responders Pack? Contact Us Today!
The Need for Therapy Dogs
"It's estimated that 18-24% of dispatchers and 35% of police officers suffer from PTSD. Many first responders self-medicate with alcohol or other self-destructive and abusive behaviors in an effort to cope with the stress and trauma they deal with daily." -NAMI